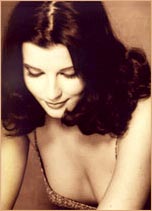 "I never thought that I would work in a jazz orchestra. Either a combination of circumstances or perhaps fate determined this musical direction which later became very important to me. I studied in the Gnesin Higher Music College for four years and was looking for work. I was nineteen when quite unexpectedly, a friend told me that Anatoly Kroll was forming a new orchestra and if I was not against singing jazz, I would have a good chance of being accepted by this brilliant musician. I decided to take a chance.
I had a great desire to study jazz, swing, improvisation, to experiment with different rhythms. This is how I ended up in the orchestra. I have already worked in Anatoliy Kroll`s "Big Band" for five years. In 1994 we took part in a musical festival in Paris and took an unforgettable trip to Montreaux for a jazz festival. We appeared with world-famous stars, such as Bobby McFerrin, M-People, Natalie Cole, and Petrucciani. I went to a reception at Miles Davis's house-museum and was amazed by the pictures he had painted. My acquaintance with Natalie Cole and her wishes to achieve great success left an indelible mark on me.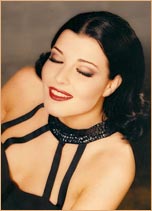 I think that jazz is the most sexual music in the world. For Marilyn and Madonna this music was natural. For me, it is a wonderful school of music that has enabled me to write my own songs abundant with rich harmonies.
At the Russian Studio "Union" in November of 1996, three compact discs of our orchestra were released, containing the music of Glen Miller, and jazz themes of Prokofiev and Musorgsky, all performed by the orchestra's soloists. I am on the cover of one of these CDs, entitled "Only Girls In Jazz". Now I combine both my work in the orchestra and my solo music project with modeling. For the time being, this works out well for me.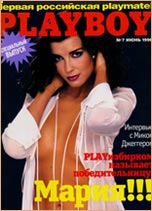 The story with Playboy magazine is just as unreal as my work with Big Band. I had never before considered nude modeling. Again fate? An accident? I don't know. It all began when I bought an issue of Russian Playboy, with Cindy Crawford on the cover. I bought the magazine because she is one of my favorite models after Marilyn Monroe and Elizabeth Taylor. In this issue there was an invitation to take part in a contest for the first Russian playmate. By nature I am inclined to all sorts of adventures, and thus could not restrain myself from taking part in the competition. And as you see, I won! I sent in my photo and questionnaire and waited, but the answer did not come for four months. Finally when all my hopes were abandoned, I received a letter from Artemi Troitski of the Russian publication, stating that the first round had passed but I could participate in the second.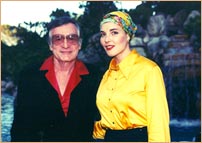 Later, after passing all the rounds and winning the contest, I began to work with the Dutch photographer Howard De Ross and stylist Yolanda Soniga.
The photo shoots were truly fascinating. We took pictures in the Moscow subway, at the House of scientists and at Moscow State University.
After the magazine's publication, many Western journalists rushed to my house from Mail on Sundays, New York Times, Reader's Digest, et cetera.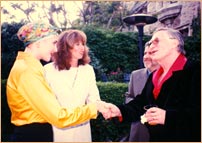 In summer of 1996 I visited the Playboy mansion in Los Angeles, where I met Hugh and Kristy Hefner. I sang for them with other jazz musicians at the mansion. Later I visited old Hollywood at the Playboy Jazz Festival. There I met Mark Harris, the producer of "Red Heat" (starring Arnold Schwartzenegger). We became friends and he relieved my loneliness and solitude in LA.
In September 1996 I was in the magazine "Planet Playboy" with the world's top ten models; I represented Russia. In June of 1997 I appeared on the cover of the New York Times magazine that featured a story about five different Russians. My journey through the world of Playboy is not over.
We are preparing for a new shoot, but all the details are to remain strictly confidential. The photo shoot will take place on the streets of one of the most relaxed, cities guess which one! "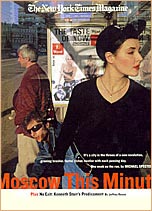 After the release of her first album, Maria performed in a variety of cities across Russia such as Samara, Novosibirsk, Tomsk, St-Petersburg and Tallinn. On September 5th, 1997 during her concert dedicated to the 850th birthday of Moscow, she was awarded a diploma by the government for her musical contribution to the city. Maria performed with English singer Sam Brown at a very successful concert in the Moscow club Golden Palace .
She continued to work with Playboy Magazine and took part in such events like Animal Protection Day and the 3rd year anniversary celebration of Playboy. In February 1998, Maria and Anatoly Kroll performed at the Minsk Jazz Festival where musicians took part from Slavic countries around the world.
She was also a special guest on many television programs including: In Bed With , About That and Cafe Oblomov . In June 1998, Maria s second shoot for Playboy Magazine took place on the island of Ibiza, Spain. The photographer was Anton Lange and the stylist was Alicher.
In the summer of 1998, Maria along with Alexei Kortnev co-hosted the opening of The World Youth Olympic Games in Moscow. They also hosted a soiree at popular Moscow club Utopia .
English