Welcome to Maria TARASEVICH
Maria Tarasevich
Maria TARASEVICH
was born on August 28 in Minsk.
Graduated from Minsk Music School specializing in violin and piano.
Later that year she entered the Gnesin Higher Music College for pop vocal performance, and graduated in 1993.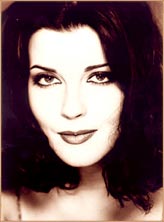 She worked in a Show Theater on the Tverskaya.
She began working in 1995 in Big Band under the direction of A. Kroll.
Masha took part in the International Jazz Festival in Montraux, Switzerland, the Musical Festival of Paris, and appeared in the documentary art film Travel In Jazz Style .
In 1995
she played the role of Kolombina in the play Joyful Death directed by V. Gneushev.
While working with the music group Eden the same year, she recorded an album in English and shot a video.
In November A. Kroll s Big Band released a CD, entitled Only Girls in Jazz consisting of a cover and a few songs.
In May 1997
, EXTRAPHONE publishing house released Masha s first solo album of ten songs called Dark Silk on CD. Vladimir Baranov was executive producer and wrote lyrics. Vladimir Matetskii and Masha Tarasevich wrote music. A. Ivanov, V. Mukhin, and A. Shantin did the album s arrangements. The video for the song Maestro Paganini was directed by E. Serdukovskii (M. Osaddchi was the camera man). The album's production took place in Lev Leshchenko's studio.The album s quality surpassed everyone s expectations, including the country s main music critic, Artemi Troitsky.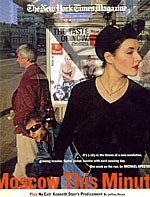 In June of 1997
, the American New York Times Magazine came out with Masha on the cover.
From 1998 to 2000
Maria worked with First – Franco Bataliya, a Milan agency. As a model she participated in advertising campaigns for Jean Pau l Gaulteir, Givanchy, Paco Rabanne, Chanel and Armani. Maria was also the face of Bussato line of clothing.
In March 2000
Stanke, a Canadian publishing company, issued a book by Heidi Hollinger, a noted photographer, under the title Russians. The book was published in English and French and featured Maria's photo, who, together with Hollinger, was a guest of the Canadian talk show With Francois.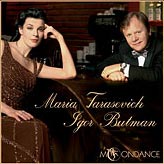 Since 2000
Maria has been working with Igor Butman, an outstanding musician and saxophone player. In January 27th, 2001 Masha was one of the guest stars at the Jazz Triumph Festival arranged by Igor Shabdurasulov and shared the stage with Igor Butman's orchestra and American star drummer Billy Cobem.
On December 5th, 2002
the Russian Embassy in New York hosted a presentation of The Russians Emerge Photoalbum by Heidi Hollinger. The book was published by a leading American publishing house Abbeville Press. It featured pictures of Russian politicians, businessmen and artists. Maria Tarasevich was one of those, whose pictures were presented in the book, with a foreword written by Mikhail Gorbachev. In the fall of 2007 Maria started her TV career on REN-TV channel as the hostess of a new talk show Last Bachelor.
In April 2003
a book – photoalbum by Mikhail Trubetskoy titled The Top 20. Most beautiful Russians was published. It featured biographies and best pictures of the most beautiful Russian women, including Maria Tarasevich.
In March 2005
Masha started out on the Domashniy TV channel as a hostess of a new parent show Detskaya. Masha discussed important and actual topics of child development and education with show business, cinema and theater stars.
Since August 2007
Maria has been producing and hosting her new project – Jazz Nights with Maria Tarasevich, which she runs. Maria has arranged over 50 concerts with Russian and world jazz stars, including Igor Butman, Anatoly Kroll, Oleg Kireev, Vadim Eilenkrig, Sergey Manukyan, Michelle Walker, Gregory Porter, Typhanie Monigue, Jaramiah, Akapella Express, etc.
In spring 2008
Maria Tarasevich issued her first solo jazz CD titled Moondance together with Igor Butman, whose outstanding performance as a saxophone player is known all over the world.
No front page content has been created yet.